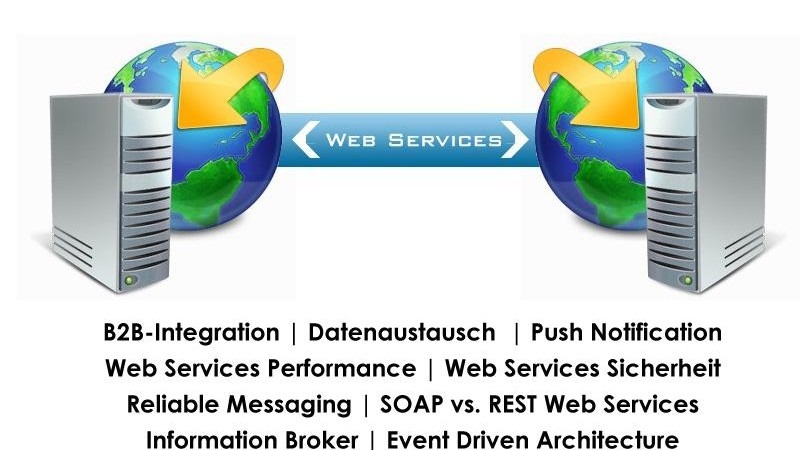 Web Services are the prime concept of today
A Web service (also Web Service) is defined by the W3C as "a software system designed to support interoperable Machine to Machine interaction over a network." Web services are frequently just Web APIs that can be accessed over a network, such as the Internet, and executed on a remote system hosting the requested services. The W3C Web service definition encompasses many different systems, but in common usage the term refers to clients and servers that communicate using XML messages that follow the SOAP standard.
Common in both the field and the terminology is the assumption that there is also a machine readable description of the operations supported by the server written in the Web Services Description Language (WSDL). The latter is not a requirement of a SOAP endpoint, but it is a prerequisite for automated client-side code generation in the mainstream Java and .NET SOAP frameworks. Some industry organizations, such as the WS-I, mandate both SOAP and WSDL in their definition of a Web service.
Web services (sometimes called application services) are services (usually including some combination of programming and data, but possibly including human resources as well) that are made available from a business's Web server for Web users or other Web-connected programs. Providers of Web services are generally known as application service providers. Web services range from such major services as storage management and customer relationship management (CRM) down to much more limited services such as the furnishing of a stock quote and the checking of bids for an auction item. The accelerating creation and availability of these services is a major Web trend.
Brisbane based Yes International Corporation provides quality services for website, database, software, online database, web software, shopping cart, seo and hosting services. Some of the areas of expertise of our services are custom built customised budget fitted design, redesign and development of e-commerce, Websoftware, Web Design software, Shopping Cart, mobile Apps, Web database, Web Application in Australia.
---