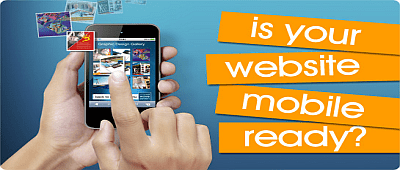 by: QpjKm522qU
note: no comments
Precaution is always better than cure. If your business has successfully survived the previous Google Algorithm updates, it doesn't mean you can play the game blindly. Google is rolling out its next algorithm update shortly (April 21) and it has been signaled to favor the mobile friendly websites. It would affect non-mobile sites by major percent which is going to be larger than previous algorithm updates like Google Panda and Penguin for Mobile Search. Search Engine Optimisation strategies for desktop website is not going to be equally useful for Google Mobile Search Results, you need look at the usability factors specially for Mobile Users.
Are you not sure if your website is mobile friendly?
You simply need to enter your URL here and get the quick result to test if your website is responsive to popular devices.
Check Your Website Responsiveness
What exactly is mobile friendly or responsive website?
Responsive web design is a website that responds to device on which it is being viewed on. It saves you from having different versions for different devices and it is also SEO friendly while being used from various devices. It relies on core principles of fast loading, easy viewable touchable and actionable.
Why do you need mobile friendly website?
Gone is the era, when internet was accessed only in laptops and personal computers. Most of the individuals are now able to access internet on their handheld devices like smartphones and tablets. Google researches as well as other surveys have found plenty of stats to prove that mobile is soon going to overtake the online world including online searches, online businesses and online stores.
72% of mobile users say it is important for them that websites are mobile friendly
80% of internet users own a smart phone.
67% individuals say they are more likely to buy goods or services from mobile friendly websites.
81% of conversions (such as a store visit, call or purchase) triggered by a mobile search occur within 5 hours.
What your customers expect?
A mobile friendly website is simply which enhances users experience for mobile searches. It should have the following features to facilitate mobile friendliness to searchers.
Easy to use search bar and it appropriately fits to small screens
Large mobile friendly buttons
Fast access to business contact information
Limited scrolling and pinching
Links to social media profiles of a business
"Click to call" access to make phone calls to the business
Ability to save information
What to do if your website is not mobile friendly?
If your site is not mobile friendly what you can do is to take professional help to make it mobile friendly or a responsive website at the earliest.Yes International Corporation specialises in creating performance driven responsive websites as well as providing prolific solutions to businesses wishing to turn their existing websites responsive.